Fuel Tanker Tank Truck 465216-17 MAZ-6312В9
Cheboksary manufacturer of special trailers and semi-trailers Sespel delivers fuel tankers to Chelyabinsk and other cities of Russia. Our products have been highly evaluated by specialists and carriers for the production quality, operating properties and price range.

At your request we will provide any required model with a different number of axles. At your discretion you can choose capacity from 10 to 40 m3 or more divided into the required number of compartments. There are variants with various dimensions and payload, that is why it is advisable to define potential conditions of further vehicle operation before purchasing.

Most of Sespel fuel tankers are manufactured from highly reliable low-alloy steel. The inside surface of the tanks is covered with special reliable composite material, as a result the fuel does not react with the metal during transportation or temporary storage, it retains its original composition, and thus the performance properties do not change their optimal characteristics. Due to the special outside cladding of tanks with a special layer of polymer material and aluminum casing, gasoline or other transported substance preserves the permissible temperature and does not inflame.
Each fuel tanker has fire extinguishers, special equipment and components that increase vehicle's safety. The tanks are also equipped with long-life gate valves and pumping equipment. The customer may himself choose the components for his oil or gasoline tanker.
The dimensions of the truck with optimal cross-country capacity are 9.5x3.15x2.5 m. The total vehicle weight is 26.5 tons and the carrying capacity is more than 15 tons. At the same time, the load level on the axis reaches 19 tons.
Sale of fuel tankers in Chelyabinsk and other Russian cities
Besides the sales office in Chelyabinsk you can buy fuel tankers at Sespel dealer centers located in Yekaterinburg, Moscow, St. Petersburg, Nizhny Novgorod and Rostov-on-Don. It is also possible to buy a refueller on favorable terms directly from manufacturer. Contact us and buy machinery from domestic manufacturer, order the best European components and use professional service. Please, refer to page "Contacts" for our addresses and phone numbers.

Rated capacity, l
17000
Compartments
3
Total length, mm
9500
Height, mm
3150
Width, mm
2500
Wheel Base, mm
3690+1320
Axle configuration of the tractor
6x4
The distance between axes, mm
1320
Wheels
385/65 R22.5
Total gross weight, kg
26500
Vertical load on the fifth wheel, kg
5800
Axle load, kg
19000
Payload, kg
15986
Curb weight, kg
10514

More
Engineer consultation

Our engineers will help you calculate the optimal load on the road according to the RF Government Regulation No. 12 dated 01.05.2015 for your cargo and your tractor for operation without overloading and fines.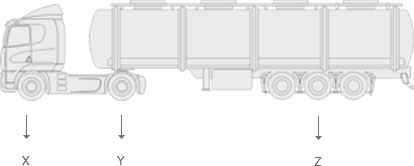 Select one of the standard configurations.
Or contact our specialists and choose your own configuration.
Order

Tank Truck 465216-17 MAZ-6312В9
If you have an individual project, please, fill out the data input form and send it to us for calculation.
Download the questionnaire