Refueller KAMAZ 65115 Tank Truck-465175-17
The Refueller based on Kamaz allows you to transport and temporarily store oil products. These fuellers are designed to work with light liquids with density 860 kg / m3.
This fueller's payload is 14620 kg, the tank volume is 17 m2. It has 3 compartments of 5, 7 и 5 m2 respectively. You can also buy at Sespel company refuellers based on MAZ with 17200 kg payload and 20 m2 tank volume.
The fueller's length is more than 8 meters, despite its size KAMAZ 65115 shows excellent off-road ability. The fueller's tank is mounted on the chassis for which 19 tons axle load indicator is acceptable.
To increase the functionality the refuellers are sold with additional components. You ca buy KAMAZ refuellers in any big city of Russia where we have our representative offices: in Moscow, Yekaterinburg, Chelyabinsk, Nizhny Novgorod, Rostov-on-Don, St. Petersburg. Please, refer to page "Contacts" for our addresses and phone numbers.

Buying tank trucks for oil products and other machinery at our company gives you the opprtunity to get European components optimal for operation in Russia. If you have a necessity you can address our service centers - professional service and maintenance are provided in many Russian big cities.


Rated capacity, l
17000
Compartments
3
Total length, mm
8245
Height, mm
3150
Width, mm
2500
Wheel Base, mm
3690+1320
The distance between axes, mm
1320
Wheels
385/65 R22,5; 6+1
Total gross weight, kg
22400
Axle load, kg
19000
Payload, kg
14620
Curb weight, kg
10514

More
Engineer consultation

Our engineers will help you calculate the optimal load on the road according to the RF Government Regulation No. 12 dated 01.05.2015 for your cargo and your tractor for operation without overloading and fines.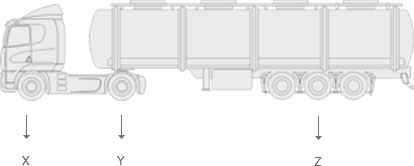 Select one of the standard configurations.
Or contact our specialists and choose your own configuration.
Order

Tank Truck АЦ-465175 KAMAZ 65115, 17 m3, 3 compartments, свн-80
If you have an individual project, please, fill out the data input form and send it to us for calculation.
Download the questionnaire