RZ3B14 MAZ-6312B5
Scania fuel tanker has dimensions 9.4 * 3.15 * 2.5 meters. The wheel configuration is 8 × 4. With 19,818 tons carrying capacity the total structure weight is 36 000 kilograms. This is a new improved model of a tank truck. Its volume is increased and is 23 m3. The tank is used for transportation of various light oil products: diesel fuel, various grades of gasoline. The load indicator on the front axle is 7,5 tons.
Scania fuel tankers unique features
Scania fuel tanker consists of 4 compartments. It comes with high-power pump Alfons Haar thanks to this the vehicles rifuelling function becomes even more cost-effective.
The fuel tanker is equipped with a safety device to prevent damage to the tank and comes with special fire extinguishers.

On customer's request the fuel tanker can be equipped with a fuel dispenser, a drain pump and other functional components.

The purchase of a fuel tanker, as well as the purchase of refuelling truck is a good buy for the safe oil products transportation.

You can apply to any sales office of our company. They are located in Moscow and St. Petersburg, Yekaterinburg and Kazan, Nizhny Novgorod, Rostov on Don and Chelyabinsk.
Sespel provides only reliable fuel tankers, professional service and long-life components.

Rated capacity, l
23000
Compartments
2-4
Total length, mm
8200
Height, mm
4000
Width, mm
2550
Wheel Base, mm
3950+1400
The distance between axes, mm
1400
Wheels
385/65 R22,5; 6+1
Total gross weight, kg
33500
Vertical load on the fifth wheel, kg
7500
Axle load, kg
26000
Payload, kg
12740
Curb weight, kg
12300

More
Engineer consultation

Our engineers will help you calculate the optimal load on the road according to the RF Government Regulation No. 12 dated 01.05.2015 for your cargo and your tractor for operation without overloading and fines.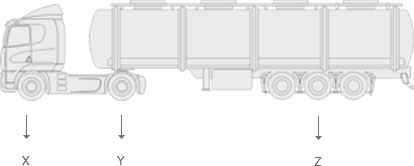 Select one of the standard configurations.
Or contact our specialists and choose your own configuration.
Order

46523-2, SCANIA-P400, 4 compartments
If you have an individual project, please, fill out the data input form and send it to us for calculation.
Download the questionnaire