Refueller KAMAZ 43118 Tank Truck-465115-12
The main advantages of KAMAZ Tank Trucks Refuellers
light weight;
the tank is made of low-alloy steel 09Г2С;

capacity – 12 m3;
KAMAZ tank truck refuller is divided itnto 1-2 compartments;
payload 10,32 tons.
KAMAZ refuellers are equipped with high-quality air valves, reliable gates which allow to safely transport light oil products - various grades of gasoline and diesel fuel with a density up to 860 kg / m3.
KAMAZ tank truck dimensions are 8,4m/3,36m/2,5m. The total weight reaches 21,6 tons with 15,8 tons load on axes. Such dimensions allow to transport fuel on roads with problem areas, temporaly store it and perform metered refuelling.
The refueller's basic chassis is KAMAZ-43118. The wheel arrangement is 6х6.
KAMAZ refueler is equipped with ladders, maintenance platform, delivery-suction hoses, fire extinguishers and sand boxes.
The standard configuration of the tank has top loading. Other equipment is possible at customer's request.
You can buy tank trucks in big cities of Russia: in Moscow, Kazan, St. Petersburg, Yekaterinburg, , Nizhny Novgorod, Rostov-on-Don and Chelyabinsk – in our sales representative offices. Please, refer to page "Contacts" for our addresse.
Buy KAMAZ refuellers at Sespel and you will get European components and professional service maintenance.

Rated capacity, l
12000
Compartments
2
Total length, mm
8440
Height, mm
3360
Width, mm
2500
Wheel Base, mm
3690+1320
Axle configuration of the tractor
6x4
The distance between axes, mm
1320
Wheels
385/65 R22,5; 6+1
Total gross weight, kg
21600
Vertical load on the fifth wheel, kg
-
Axle load, kg
15800
Payload, kg
10320
Curb weight, kg
11260

More
Engineer consultation

Our engineers will help you calculate the optimal load on the road according to the RF Government Regulation No. 12 dated 01.05.2015 for your cargo and your tractor for operation without overloading and fines.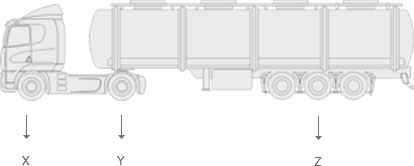 Select one of the standard configurations.
Or contact our specialists and choose your own configuration.
Order

Tank Truck RK3312.2S_01 KAMAZ 3118-3938-46

Order

Tank Truck АЦ-465115-12 KAMAZ 43118-0003938-46
If you have an individual project, please, fill out the data input form and send it to us for calculation.
Download the questionnaire