Sea Tank Container CTL-25-4D T14
The Tank Container which you can buy in Cheboksary from Sespel Company is designed for the temporary storage and transportation of different goods, including:
Aggressive liquids;
Liquid foodstuff;
Corrosive substances;
Highly Flammable liquids;
And other Hazardous substances.
Tank Container transports such goods using multiple modes of transportation (truck, rail and ship). A Sea Container is a frame with a tank equipped with draining and pressure unloading devices.
The Sea Container is convenient first of all to ensure safety of cargo transportation. The category "for special cargo" also applies to sea containers.
Rated capacity, l
20000
Compartments
1
Total length, mm
6058
Height, mm
2591
Width, mm
2438
Total gross weight, kg
30480
Payload, kg
25100
Curb weight, kg
3600

More

Manlid Safety Box;
Stainless steel Manlid FortValve DN500 with hinged Cover and Gasket -1 item.;
Vent Valve in Manlid;
Point-type Thermometer -40° С to160° С with double metering: Celsius and Fahrenheit;
Two stainless steel Boxes fitted around Manlid / Relief Valve and around Top Discharge/Vent Valve;
Document Holder;
The Tank inside surface is mechanically cleaned and polished according to Standard 2В variant and chemically passivated. The Tank has Insulation and Outside Heating System.

The Loading (Discharge) devices are situated in central and side boxes on top the cylinder;
The Loading (Discharge) device is equiped with stainless steel Butterfly Valve 3 " (DN-80);
Ball Valve 1/2 " on the airline for closed steam-air cycle;
Engineer consultation

Our engineers will help you calculate the optimal load on the road according to the RF Government Regulation No. 12 dated 01.05.2015 for your cargo and your tractor for operation without overloading and fines.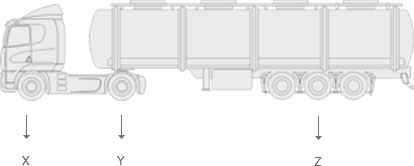 If you have an individual project, please, fill out the data input form and send it to us for calculation.
Download the questionnaire
Наличие на складах