SF3B35
This Bitumen Tanker acc. to European standard is characterized by increased stability. The supporting structure allows to use it with a minimum curb weight. Available with different types of cladding.
The ready-made variant of SF3B35 tank for sale has 35 cub.m. capacity. There are also available bitumen tankers of SF3B32 model with 32 cub.m. capacity. Fuel can be pumped directly from the compartment. Due to the improved supporting structure, air suspension and transportation safety system, with which SF3B35 tank is equipped, its price becomes more than acceptable. In addition, the SF3B35 tank has a reduced trailer weight. Also it has sufficient height, a high coupling device and a well-tuned chassis.

Thanks to the well-established sales system, tSespel tanks are successfully sold not only in Cheboksary and Chuvashia, but also in all regions of the Russian Federation. We offer favorable conditions for both dealer organizations and customers - individuals and legal entities.

Rated capacity, l
35000
Compartments
1
Total length, mm
13300
Height, mm
3700
Width, mm
2500
Wheel Base, mm
6370+1360+1360
The distance between axes, mm
1360
Wheels
385/65 R22.5
Total gross weight, kg
40440
Vertical load on the fifth wheel, kg
13440
Axle load, kg
27000
Payload, kg
32140
Curb weight, kg
8300

More
Engineer consultation

Our engineers will help you calculate the optimal load on the road according to the RF Government Regulation No. 12 dated 01.05.2015 for your cargo and your tractor for operation without overloading and fines.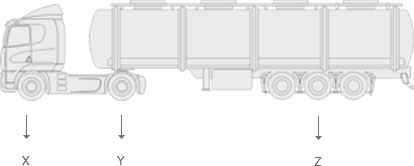 Select one of the standard configurations.
Or contact our specialists and choose your own configuration.
The Bitumen Tanker 96487M_30 is made of low-alloy steel.

Order

96487M fifth-wheel 1150, 1 compartment_30 bitumen

The Bitumen Tanker 96487M_30 fifth-wheel 1150, 1 compartment_30 bitumen is a tank for chemical products. It is intended for transportation and short-term storage of inorganic and organic, chemically aggressive and chemically neutral liquids and etc. The tank structure is made of low-alloy steel. The tank volume is 35 m3. The total length is 13,3 m. Height - 3,7 m. Width - 2,5 m. Wheelbase - 6370 + 1360 + 1360 mm. The distance between the axles is 1360 mm.


The semi-trailer 96487M_30 is divided into 1 compartment. It is transported by Russian or foreign tractor with 4х2, 6х4 wheel arrangement. The running gear of the semi-trailer is a three-axle single-wheeled air or leaf suspension (according to customer preferences) manufactured by BPW (Germany), the warranty is provided by BPW for up to 3 years. Double circuit brake system WABCO, equipped with TEBS (2S / 2M) with Roll Stability Support function. The semitrailer is equipped with PVC fenders. The total weight is 34900 kg. The load on the fifth-wheel is 11599 kg. The load on axles is 23301 kg.

The tank undergoes special treatment with zinc-enriched pre-coating and painting in one color with high-quality two-pack paint. The fifth-wheel height is from 1150 to 1250 mm.
If you have an individual project, please, fill out the data input form and send it to us for calculation.
Download the questionnaire
Наличие на складах