SF3B32
Sespel is the most modern enterprise in the Russian market, offering strong and durable
new bitumen tankers
. The tank for bitumen semi-trailer is made acc. to European standards for dangerous goods transportation. These tankers, like other bitumen tankers, are sold to consumers who need to transport dark oil products (crude oil, bitumen, fuel oil and other substances heated to t = 200 ° C) for limited distances. The tank trucks SF3B32 with fuel tanks of 32 m3 in capacity and 32 tons of carrying capacity are sold by the Cheboksary plant with BPW axles - ECOPlus 2 (Germany), which are ideally adapted for Russian roads.

Rated capacity, l
32000
Total length, mm
12100
Height, mm
3700
Width, mm
2500
Wheel Base, mm
5590 +1360+1360
The distance between axes, mm
1360
Wheels
385/65R22,5; 6+1
Total gross weight, kg
40100
Vertical load on the fifth wheel, kg
13300
Axle load, kg
26800
Payload, kg
32000
Curb weight, kg
8100

More

Vessel

Chassis

Equipment

Unloading

Color

The self-supporting tank structure made of low-alloy steel or stainless steel is intended for carriage and temporary storage of dark oil products (heated bitumen, resinous oil, fuel oil and etc.). It is transported by Russian or foreign trucks with 4x2 wheel arrangement;
The tank body is made of low-alloy steel and is covered with thermal insulation (additional option) 150 mm, as well as a sheet of galvanized steel 0.8 mm thick or stainless steel 0.8 mm thick;
Model: round shape, with lowered center of gravity;
The operating temperature of the bitumen transported in the tank is about 250° C;
The gravity discharge through a bottom valve and a gate valve DN100 (4");
Material: Steel 09Г2С, the thickness of a shell and bottoms is minimum 4,00 mm;
The tank has 1 compartment with baffles. The compartment has a neck ring and a manhole with an appropriate lid and bottom gasket;
It is structurally possible to fill the tank to 85% of its nominal volume (one measuring corner is installed inside the tank at the level of the nominal volume, the second one is installed on 95% of the nominal volume of the tank);
Design pressure - 2.0 bar,
Test pressure - 0.5 bar,
Working pressure - 1.0 bar

Running gear - Brake system

3 (three) axle air suspension BPW (Germany), unlimited mileage warranty for 3 (three) years (the warranty is provided by BPW);
Maximum load on axle – 9.0 tons
Steel chassis;
Drum brakes;
Level control valve;
Double circuit brake system WABCO equipped with ТEBS system (2S/2M) with Roll Stability Support function.
Automatic regulation of brake force and automatic brake shoes gap control;
Pneumatic hand brake – of two axles;
One test jack for each wheel – to measure and check pressure in braking system.
The pressure in the braking system is automatically adjusted according to the load;

Wheels and Tyres

Solid wheels, tubeless tyres (6 wheels + 1 spare) - 7 pcs;
Tyres 385/65 R22,5 - 7 pcs;
Steel wheel disks 11,75x22,5 - 7 pcs;
Individual PVC fenders with brackets and mudguard - 2 pcs;

Tank equipment

Kingpin 2'' in diameter of international type of KZ brand with steel support plate;
Double speed BPW supporting legs, 24 (50) tons load capacity, hand-driven;
Manhole DN500 with a hinged lid and a gasket;
Vent Valve on top of the tank for air intake and outlet -1 pce;
Manhole safety fencing with a protective box;
Ecological anti spill and draining equipment, 1 outlet at the tank manhole – draining system passing through it;
Aluminum box of closed type for laying the discharge hose on top, on the right side, 4200 mm long - 1pce;
Composite discharge hose L = 4,0 m., DN-100 (4" ) - 1 pce;
Rear protection according to GOST R 50913-96 requirements;
2-rail side bumpers;
Thermometer from 0° to + 300°C - 1 pce.

Other equipment

Fire extinguisher of 6 kg capacity with plastic box - 2 pcs.;
Wheel blocks with brackets -2 pcs.;
Box for nuetralizing agent (sand) -1 pce;
Spare wheel mounting bracket on the right side in the center of the tank;

The discharging equipment is situated in the rear side of the tank;
Steel pipeline 4" for gravity discharge - 1 pce;
Ball Valve with manual control DN100 (4") heat-resistant on discharge pipeline - 1 pce.
BottomValve for dark oil products 4" with manual control, steering wheel, on the right side -1 pce.
Connection with plug Camlock 4" on the draining device;
Discharge opportunities: discharging under gravity;

Robotic painting;
Tank painting - special treatment with zinc-enriched pre-coating and painting in one color with high-quality two-pack paint, flash drying (in compliance with the requirements of the Regulations concerning the carriage of dangerous goods);
The colour of frame, consoles, supporting legs - orange;
The tank colour - mirror-like;
The color of outer bottoms - orange;
Engineer consultation

Our engineers will help you calculate the optimal load on the road according to the RF Government Regulation No. 12 dated 01.05.2015 for your cargo and your tractor for operation without overloading and fines.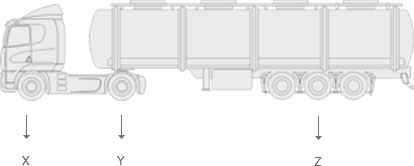 If you have an individual project, please, fill out the data input form and send it to us for calculation.
Download the questionnaire
Наличие на складах