SF3B28 off-road
Tanks for oil products of SF3B28 "off-road" series are distinguished by their rather narrow purpose. The main cargo transported using tanks for petroleum products is oil itself and various results of its distillation (gasoline, bitumen, fuel oil, etc.). Due to their narrow specification and tank design features the new SF3B28 "off-road" truck sold by Sespel are not be suitable for other goods transportation.

The use of tanks for oil products of SF3B28 "off-road" series in combination with a heavy-duty tractor will ensure transportation safety without violation of requirements applicable to them. Semi-trailers can be mounted on SCANIA tractors and other brands.

It should be remembered that for better transportation efficiency it is better to replace old trailers with new ones, for example, with bitumen tankers of SF3B23 "off-road"model that have not worked out their life time. You can do this on our website or by calling the specified phone numbers in Cheboksary and representative offices in other cities.

Rated capacity, l
28000
Compartments
1
Total length, mm
11050
Height, mm
3650
Width, mm
2550
Wheel Base, mm
4610+1360+1360
Axle configuration of the tractor
6x4
The distance between axes, mm
1360
Wheels
385/65 R22,5; 6+1
Total gross weight, kg
32000
Vertical load on the fifth wheel, kg
10192
Axle load, kg
21808
Payload, kg
24400
Curb weight, kg
7500

More
Engineer consultation

Our engineers will help you calculate the optimal load on the road according to the RF Government Regulation No. 12 dated 01.05.2015 for your cargo and your tractor for operation without overloading and fines.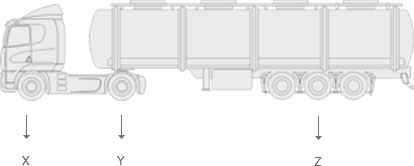 If you have an individual project, please, fill out the data input form and send it to us for calculation.
Download the questionnaire
Наличие на складах