Dump Trucks DB3U24
The bodywork is made of high-strength steel, the semi-trailer is designed to transport various bulk cargoes, and is transported by 4x2, 6x4 Russian or foreign tractor. The body shape of the oval cross section is the oval profile, which at the bottom tends to circle. The upper chord is made in the form of a U-shaped profile having rounded corners. The body section is welded by hybrid laser welding with automatic 100% weld control. The design provides a better distribution of statistical and dynamic stresses in stress concentration points with the calculation of the maximum possible load. The semi-trailer frame is made of high-strength steel S700.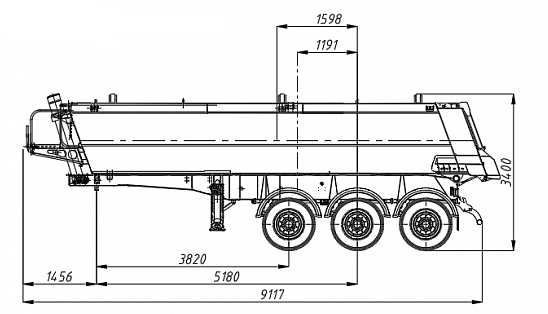 Rated capacity, l
24000
Total length, mm
9117
Height, mm
3400
Width, mm
2350
Wheel Base, mm
3820+1310+1310
The distance between axes, mm
1310
Wheels
385/65R22,5; 6+1
Total gross weight, kg
31068
Vertical load on the fifth wheel, kg
9293
Axle load, kg
21775
Payload, kg
24000
Curb weight, kg
7068

More

Vessel

Chassis

Equipment

Color

Structure

The bodywork is made of high-strength steel, the semi-trailer is designed for transportation of various bulk cargoes, and is transported by 4x2, 6x4 Russian or foreign tractor;
The semi-trailer frame is made from high-strength steel S700;
The body form is Half-Pipe;
Thickness of body walls – 5 mm;
Bottom thickness – 5 mm;
Thickness of the body front – 5 mm;
Thickness of the tailgate – 5 mm;
Unloading direction – backwards;
Covering tentwith density 680g/m2 rollable to the side.

Running gear

3 (three) axle air suspension BPW (Germany), warranty up to 3 (three) years (the warranty is provided by BPW);
Maximum load on axle – 9.0 tons
Steel chassis;
Drum brakes;
Level control valve;
Double circuit brake system WABCO equipped with ТEBS system (2S/2M) with Roll Stability Support function.
Automatic regulation of brake force and automatic brake shoes gap control;
Pneumatic hand brake – of two axles;
One test jack for each wheel – to measure and check pressure in braking system.
The pressure in the braking system is automatically adjusted according to the load;

Wheels and Tyres

Solid wheels, tubeless tyres (6 wheels + 1 spare) - 7 pcs;
Tyres Cordiant size 385/65 R22,5 - 7 pcs;
Steel wheel disks 11,75x22,5 - 7 pcs;
Plastic fenders with brackets - 6 pcs;
IVTM (Integrated Vehicle Tyre Pressure Monitoring). The system continuously monitors tyre pressure in all wheels with the help of sensors. WABCO (Germany).

Electrical equipment

Electrical equipment 24V (class 3 ADR);
Two 7-pin and one 15-pin sockets;
ABS socket;
Wiring harnesses for connecting the lighting and alarm system components;
Two rear combination lamps performing functions of side markers;
Direction indicators, brake signals, fog lamps, reversing lamps and rear registration plate lamps;
Two end-outline marker lamps on a flexible base;
Two front (side) lamps combined with white retro reflectors;
Side marker lights combined with orange retro reflectors;
Two red rear retro reflectors of triangular shape are part of the rear combination lamps;
Telematics TControl GPS / Glonass: for controlling, tracking and visualizing data based on location, 24/7 on-line tracking; on-line data transfer; notifications; data and reports processing; alarm signal (SMS and E-Mail) sent to the manager, service station and the driver (Germany).

Dumping semi-trailer equipment

Kingpin 2" in diameter of international type of BPW brand with steel supporting plate;
BPW supporting legs double speed, 24 (50) tons load capacity, hand-driven;
HYVA hydraulic cylinder
Side guard is made of aluminum profiles;
Rear safety beam is made of steel 09Г2С;

Other equipment

Wheel blocks with brackets -2 pcs;
Box for nuetralizing agent (sand) -1 pce;
Spare wheel carrier (mounting bracket);
Washstand – 1 pce;

Service platform

Aluminum service platform in the front of the semi-trailer with the entrance from the driver's side.

Additional options

Galvanized semi-trailer frame;
Hydraulic cylinder BINOTTO, PENTA;
Aluminum ladder;
Shockproof LED taillights;
Extended Warranty;
SAF Axles;
Lifting front axle;
Aluminum wheel discs;
Tyres MICHELIN, BRIDGESTONE, CONTINENTAL;
Tyres size 445/65 R22,5.

Robotic painting;
Tank painting - special treatment with zinc-enriched pre-coating and painting in one color with high-quality two-pack paint, flash drying;
The colour of frame - black;
The body colour – dark grey;
Engineer consultation

Our engineers will help you calculate the optimal load on the road according to the RF Government Regulation No. 12 dated 01.05.2015 for your cargo and your tractor for operation without overloading and fines.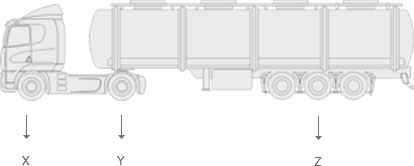 If you have an individual project, please, fill out the data input form and send it to us for calculation.
Download the questionnaire
Наличие на складах