SF3U25
The cement trucks 964824 and cements trucks model 964807, sold by Sespel, showed good results in the sphere of construction as a carrier of loose goods in such vessels as cement silos.
To carry cement silo cement trucks 964824 are produced as three-axle tanks with SAF or BPW axes. TEBS Brake System of cement trucks that we offer for sale has Roll Stability Support function. You can buy tank for cement of our production at our company Sespel.
We have a well-organized sale of cement semitrailers that are used with different trucks.
Rated capacity, l
25000
Compartments
3
Total length, mm
9980
Height, mm
3600
Width, mm
2500
Wheel Base, mm
5417+1360+1360
Axle configuration of the tractor
6x4
The distance between axes, mm
1360
Wheels
385/65 R22.5
Total gross weight, kg
35000
Vertical load on the fifth wheel, kg
10600
Axle load, kg
24000
Payload, kg
26700
Curb weight, kg
8300

More
Engineer consultation

Our engineers will help you calculate the optimal load on the road according to the RF Government Regulation No. 12 dated 01.05.2015 for your cargo and your tractor for operation without overloading and fines.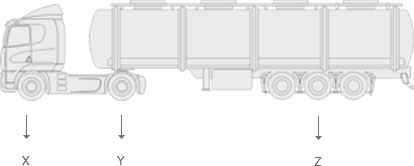 Select one of the standard configurations.
Or contact our specialists and choose your own configuration.
Order

SF3U25_1S_05 fifth-wheel 1150, 1 compartment

Order

SF3U25_1S_04 fifth-wheel 1250, 1 compartment

Order

SF3U25_1S_02 fifth-wheel 1250, 1 compartment

Order

SF3U25_3S_01 fifth-wheel 1200, 3 compartments, 25 m3

Order

SF3U25_1S_01 fifth-wheel 1150, 1 compartment
If you have an individual project, please, fill out the data input form and send it to us for calculation.
Download the questionnaire