SF3330_3A_07, 30 m3, 3 compartments, fifth-wheel 1250
The Fuel Tanker SF3330 3A 07 is a tank semi-trailer intended for transportation and temporary storage of gasoline and light oil products (gasoline, kerosene, diesel fuel, etc.). The tank structure is made of aluminum alloy. The tank volume 30 m3. The Fuel Tanker is divided into 3 compartments with volumes 8,1 m3 / 11,2 m3 / 10,7 m3 .

The Fuel Tanker SF3330 3A 07 is intended for operation with MAZ cars. It is transported with Russian or foreign truck 4х2 ( 6х4) wheel arrangement. The running gear of the semitrailer is 3-axle single wheeled air suspension BPW (Germany), the warranty is provided by BPW up to 3 years. Double circuit brake system WABCO equipped with ТEBS system (2S/2M) with Roll Stability Support function. The semitrailerSF3330 3A 07 is equipped with individual PVC fenders.

The tank undergoes special treatment with zinc-enriched pre-coating and painting in one color with high-quality two-pack paint Tikkurilla. The fifth-wheel coupling height is from 1150 to1250 mm. Additionally there can be installed various equipment such as a pump, a meter, fuel distribution unit, vapour recovery system, bottom loading system and etc.

Model
SF3330_3A_07
Rated capacity, l
30000
Total length, mm
10150
Height, mm
3700
Width, mm
2550
Wheel Base, mm
4825+1360+1360
The distance between axes, mm
1360
Wheels
385/65R22,5; 6+1
Total gross weight, kg
31900
Vertical load on the fifth wheel, kg
9460
Axle load, kg
22440
Payload, kg
26700
Axle configuration of the tractor
4x2
Number of compartments
3
Curb weight, kg
5200
Axles
BPW
Fifth wheel height, mm
1250
Recovery
No
Material
Aluminum
Access box position
On the left side
Pump
No

More

Vessel

Chassis

Equipment

Unloading

The self-supporting Tank made of low-alloy steel is intended for carriage, temporary storage and pumping of light oil products with the density up to 860 kg/m3, and can be transported by Russian or foreign trucks with 4х2 ( 6х4) wheel arrangement;
The Tank nominal volume (up to calibration marks in compartments, without metering compensatory volume) – 30 000 litres;
number of Manholes - 3,
number of isolated compartments - 3,
compartment №1 volume – 8100 litres,
compartment №2 volume – 11200 litres,
compartment №3 volume – 10700 litres,
The separate gravity discharge to the left or to the right side through Jouka Ball Vallve DN-80 (3");
Top loading through Livny Manlids;
Material: aluminum alloy 5083, walls and bottoms thickness - minimum 5,00 mm;
shell thickness - minimum 5 mm,
bottoms thickness (2 pcs) - minimum 5 mm,
baffles (3 pcs) and bulkheads (3 pcs) thickness- minimum 5 mm,
Transportation of highly flammable liquids Class 3 (fuel, diesel fuel, kerosene oil);
design pressure – 0,5 bar,
test pressure – 0,5 bar,
working pressure – 0,0 bar

Running gear - Brake system

3 (three) axle air suspension BPW (Germany), unlimited mileage warranty for 3 (three) years (the warranty is provided by BPW);
Maximum load on axle – 9.0 tons
Steel chassis;
Drum brakes;
Level control valve;
Double circuit brake system WABCO equipped with ТEBS system (2S/2M) with Roll Stability Support function.
Automatic regulation of brake force and automatic brake shoes gap control;
Pneumatic hand brake - of two axles;
One test jack for each wheel – to measure and check pressure in braking system.
The pressure in the braking system is automatically adjusted according to the load;


Wheels and Tyres


Solid wheels, tubeless tires (6 wheels + 1 spare) - 7 pcs;
Tyres 385/65 R22,5 - 7 pcs;
Steel wheel disks 11,75x22,5 - 7 pcs;
Individual PVC fenders with brackets and mudguard - 6 pcs;

Tank equipment


Kingpin 2'' in diameter of international type of KZ brand with steel support plate;
BPW support legs with double speed, 24 (50) tons load capacity, hand-driven;
It is structurally possible to seal each compartment manholes;
Manholes safety fencing all along the tank;
Ecological anti spill and draining equipment, 2 outlets at the rear side of the tank – draining system passing through it;
Aluminium manlid DN500 - each compartment, manhole diameter - 300 mm., fixation - bolts around manlid;
Foot Valve 4" Livny with pneumatic control in each compartment;
Foot valves control module with compartment numbers and switch positions marking: open/closed for each compartment – 1 pce;
Vent Valves with flame arrester in each compartment manlid;
Composite discharge hoses L = 4,0м., DN-80 (3") - 2 pcs.;
PVC hoses carriers - 2 pcs.;
Quick connectors Сamloсk 3" on discharge hoses;
Rear protection according to GOST R 50913-96 requirements;

Other equipment

Fire extinguisher of 6 kg capacity with plastic box - 2 pcs.;
Wheel blocks -2 pcs.;
Box for nuetralizing agent (sand) -1 pce;
Spare wheel carrier (mounting bracket);
15 meters grounding cable with reel and clip;
2 (two) copper earthing rods;

The discharging equipment is situated in the closed access box on the vessel left side between supporting legs and the carriage front axle;
Aluminium pipelines 4" for bottom loading and unloading - 3pcs;
Ball Valves with manual control DN80 (3") Civacon on discharge pipelines - 3pcs (in case of top loading);
Ground cable (reel with cable);
Air preparation unit for foot valves drive ;
Fuel type indicator on discharge pipelines – 3 pcs;
Discharge opportunities: discharging under gravity;
Engineer consultation

Our engineers will help you calculate the optimal load on the road according to the RF Government Regulation No. 12 dated 01.05.2015 for your cargo and your tractor for operation without overloading and fines.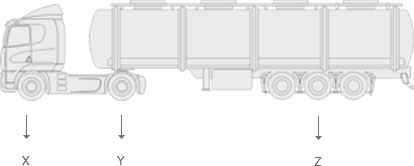 Наличие на складах